Integrating Art Into Your Home
Here are my favourite tips for using art to set the mood of each area and make your friends jealous of your amazing house design.
Hang low or not at all
Guess what? You don't really have to hang your artwork. It's 2017–don't hesitate to lean that poor boy from a wall.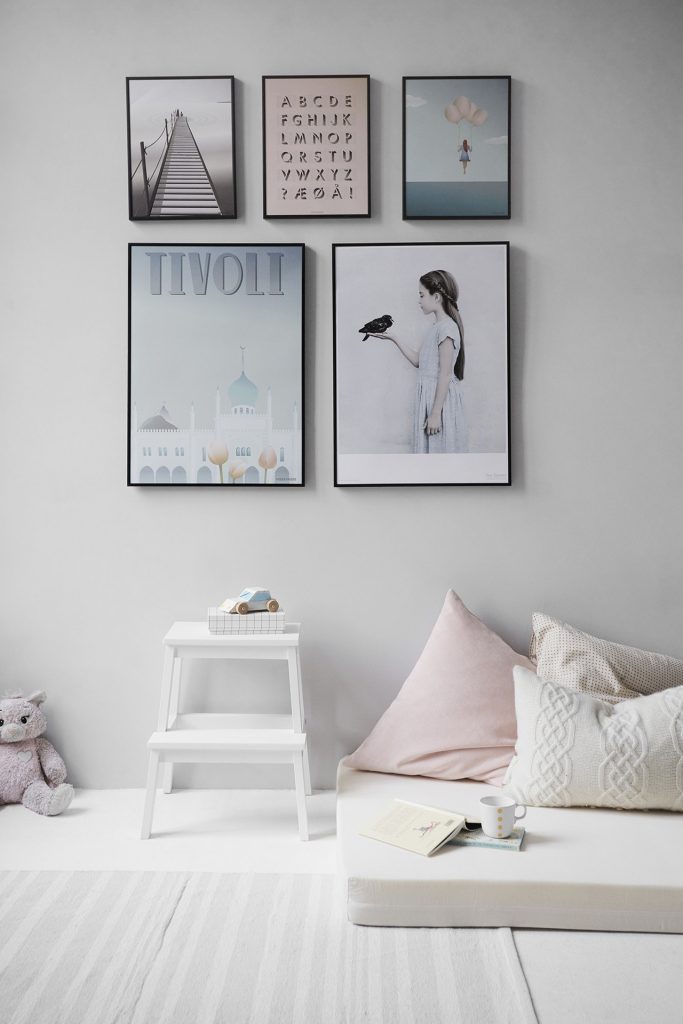 But if you do need to hang the piece, let's get down to basics. The base of the artwork (or its framework) should just be 8-16 inches above your couch or table. Yep, hang low. You need to place the work so that the core of the piece is at eye level, and unless you are Michael Jordan, you are going to need to lower your hanging expectations.
If you are planning to hang multiple smaller artworks in rows or columns, stick to the exact same principle: begin the lowest row just 8-16 inches over your item of furniture. This can help create a unified design statement.
If you're prepared to take the dip and sit rather than hang, fireplaces and shelves are a wonderful focal point in any room, but occasionally floors are great also! Yup, you heard me, put the art on the ground, (framed of course). This is a superb way to dress down a space and create a relaxed and welcoming vibe.
A colour for every mood
Choose colours dependent on the mood you need to create in each room. For instance, grey is calming, so consider highlighting your bedroom layout or theme on various gradients of grey. Yellow sets a welcoming, cheerful disposition, so a bit of artwork which has a bright yellow hue is ideal for the living area. And functions that shout with orange or red are amazing from the dining area, and will spark lively discussions between dinner guests.
Lastly, most of us remember from science class that white is the presence of all colours, but it does not mean white will bring character to a room. Quite the opposite! There is a reason gallery spaces have white walls–to allow you to ignore the walls and concentrate on the artwork. So, in case you purchase white art, be sure that the wall it hangs on is brilliant.
Design a room around an artwork
To start, locate your focal point: Walk in the area and determine where your eyes land first; this is the best place for a piece of statement art, and you can base the rest of the area's layout on it. This may be as simple as picking out among the secondary colours on your central piece of art and flowing it throughout the room–an accent pillow here, a lampshade there. The theme does not have to take over the layout, but it is going to help the eye join all of the pieces in the room, and make a unifying statement on your décor and design.
One of my favourite ways to construct a theme is via texture. You can have as many colours or patterns as you like, but when they're in precisely the identical fabric or feel, it truly brings the room together in a subliminal yet powerful manner.
Bear in mind, you can always use your artwork to mimic the life span of the room. Put simply: If the art is of food, hang it in the kitchen, if it is of a bunch of friends laughing, hang it in the living area. But do not take this too literally or else it may get weird fast from the toilet…
Don't forget your bathroom!
Think about your bathroom for a gallery–the ideal place to hang your quirkiest art pieces. Get a little crazy and show your character. Some of the greatest art can be somewhat uncomfortable at first glance, but when you really see it, you won't have the ability to stop admiring it. The extra bonus here is that your guests will find a kick out of the functions in a private setting (and they could stare for as long as they need!).